The contractor will deliver the Atkins-designed Twickenham scheme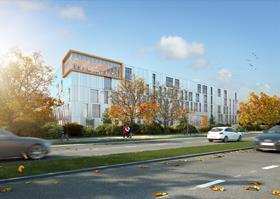 ISG has been awarded a £34m project at Richmond upon Thames College's Twickenham campus.
It is the first phase of a wider £80m masterplan to transform facilities at the London higher education institution.
The contractor will build a new five-storey teaching block, providing around 161,000ft2 of space and accommodate an expanded intake of up to 3,000 students when it opens at the end of 2019.
Designed by Atkins, the new learning centre will become the college's hub for technology enabled teaching courses, and includes TV studios, a 3D prototyping fabrication laboratory and a digital golf studio.
The scheme is the latest to be awarded under the Pagabo framework, which ISG was appointed to in 2016.
Steven McGee, managing director for ISG's construction south business, said: "The complexities of this project have ideally suited the Pagabo framework procurement route that was selected to bring this highly anticipated scheme to site.
"High-performing frameworks prove instrumental in fostering strong collaboration between project stakeholders, and our early engagement on the scheme has enabled us to interrogate the brief to drive efficiencies at every stage of the build
ISG is set to create a 160-seat theatre and an art gallery, which will enable local artists and photographers to exhibit their work at the college.
A chef's academy, with full commercial kitchen and a bookable restaurant space will also be created, alongside a spa and wellness centre.