Building's recap of everything that has happened since HS2 was launched in 2009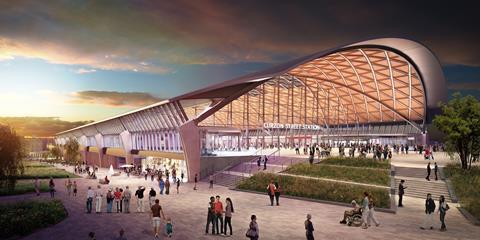 Despite the news coming that teams led by Mace and Balfour Beatty are set to build HS2's two London stations there is still plenty of questions around what's to come next for the £56bn project.
The official line about the scheme's future has remained positive, despite a number of calls to either scrap or alter its scope.
With the main construction works set to ramp up later this year despite a legal challenge, and first services not expected to start running to 2026, there is plenty of news still to come in the ongoing story of HS2.
Use this page, which the the Building team will keep updated with all the latest HS2 news, to take a look back at everything that has happened since the project launched in 2009.
HS2 timeline
18 July 2019: Building reveals HS2 will find out in September if it can hand a £1bn job to build its station at Old Oak Common to preferred bidder Balfour Beatty
12 July 2019: Several Conservative MPs claim the true cost of HS2 will be more than £100bn
11 July 2019: The Public Accounts Committee warns repeated delays to the start of the main civils work on HS2 could result in a Crossrail-style programme blow-out. Meanwhile, HS2 scraps the process to find a contractor to build a £435m station in the middle of Birmingham because not enough firms are interested
10 July 2019: A transport minister confirms HS2 chair Allan Cook is carrying out a review of the project
26 June 2019: HS2 phase one boss Jim Crawford, who has been working on the scheme since 2014, leaves
6 June 2019: HS2's future is set to be decided by the end of the year, chief secretary to the Treasury Liz Truss reveals.
15 May 2019: A House of Lords committee report calls for HS2 to delay the revamp of Euston station in favour of developing the northern section of the route. Meanwhile the Public Accounts Committee is told that HS2's leadership is working to strengthen its board in the wake of the problems that have emerged about the running of Crossrail.
14 May 2019: Balfour Beatty warns that ongoing delays to work on HS2 could force it to lay off staff before they have even had the chance to work on the scheme.
1 May 2019: The transport minister responsible for HS2 says the government has no plans to hit the pause button on work being carried out on the early phases of the £56bn project.
25 April 2019: Bechtel alleges that its chance of winning the £1bn contract to build HS2's Old Oak Common station was scuppered because of blunders the client made in its procurement process and that it had have cost it £100m.
23 April 2019: Union Unite says it is looking into taking legal action against a subcontractor of Costain-Skanska after alleging it has withheld more than £1m of overtime money from staff working on the HS2 station at Euston.
12 April 2019: Judith Hackitt becomes a non-executive director at HS2 while former Crossrail boss Andrew Wolstenholme leaves its board weeks after receiving a blast from the London Assembly.
11 April 2019: HS2 reveals the weighting different factors were given in its decision to appoint a team led by Mace to the scheme to build the £1.6bn Euston station.
10 April 2019: HS2 completes two major demolition projects at Euston, meaning that for the first time the site where the new platforms and concourse will be built is visible.
25 March 2019: HS2 reveals a £230m framework for consultants.
19 March 2019: HS2 chair Allan Cook says he does not expect any more money to be made available on the £56.7bn scheme - and promises MPs accountabilty. HS2 Ltd also released images of the proposed redevelopment at Birmingham Moor Street.
13 March 2019 - HS2 chair Allan Cook tells the Commons transport committee that he does not believe the project's £55.7bn budget, which was laid out in 2015, will be increased by the transport department. Meanwhile, the Chinese nuclear giant behind Hinkley Point C appoints former HS2 chairman Sir Terry Morgan to chair a newly created advisory board for its UK business.
12 March 2019 - A £10bn development portfolio of opportunities in the West Midlands is unveiled, with projects centred on the two HS2 stations planned for the region being the biggest value schemes in the pipeline.
11 March 2019 - A team led by Mace signs to confirm its appointment to lead the construction of the new HS2 station at Euston in central London.
22 February 2019 - Bechtel launches legal action against HS2 after missing out on the £1.1bn contract to build Old Oak Common station.
21 February 2019 - It's revealed that demolition has kicked off at the site which has been earmarked for HS2's train maintenance depot in Birmingham.
19 February 2019 - HS2 reveals teams led by Balfour Beatty and Mace look set to sign the contracts for the construction of HS2's two London stations as the standstill period nears its conclusion without contest from the losing bidders.
14 February 2019 - Solihull council and local businesses reveal they have been told to fork out £100m if they want HS2 to build multi-storey car parks around their new station – instead of occupying 22 acres for surface parking.
6 February 2019 - HS2 announces the prized deals to build its London stations at Euston and Old Oak Common have gone to teams led by Mace and Balfour Beatty.
5 February 2019 - HS2 unveils images of what Old Oak Common station will look like.
31 January 2019 - Building reveals that the race to build the new HS2 station at Euston is understood to be a two horse race between Costain/Skanska and a team led by Mace.
25 January 2019 - Transport secretary Chris Grayling says the government remains committed to HS2 phase two
23 January 2019 - The former chair of HS2 Sir Terry Morgan admits that "nobody knows" what the projects final price tag will be. He also suggests the railway should initially terminate in west London at Old Oak Common.
23 January 2019 - Government think tank the Institute for Government says Brexit uncertainty could derail HS2.
16 January 2019 - The appointment of contractors to build the HS2 stations at Euston and Old Oak Common is officially pushed back. The announcement of which firms would be the construction partners on the £56bn scheme's two London stations was originally due to be made by the end of 2018.
14 January 2019 - HS2 boss Mark Thurston suggests three measures to cut costs and save time on the £56bn train line despite insisting his corporation is working to the original cost and scope.
10 January 2019 - Prime minister Theresa May is forced to defend an attack on the HS2, with one Tory MP labelling the £56bn project "deeply unpopular".
17 December 2018 - Tory frontbencher Lord Young says the top speed of trains on the HS2 railway could be cut in order to make sure costs on the £56bn scheme don't rocket further.
5 December 2018 - Sir Terry Morgan is officially ousted from his roles at both Crossrail and HS2 days after reports leaked to the media revealed transport secretary Chris Grayling and chancellor Philip Hammond had been lobbying for his removal. Allan Cook, who was the chairman of Atkins between 2009 and 2017, is named as the new chair of HS2
19 November 2018 - The search for a contractor to deliver the £435m HS2 station which will bring the new high speed line into the heart of Birmingham begins.
9 October 2018 - HS2 reveals images of what its planned stations in Birmingham and Solihull will look like.
5 September 2018 - The chair of the transport select committee slams transport secretary Chris Grayling amid reports HS2 is facing a 12 month delay.
13 July 2018 - Transport secretary Chris Grayling announces the appointment of then-Crossrail chair Sir Terry Morgan as the new chairman for HS2.
4 July 2018 - The Department for Transport asks HS2 to begin preparatory works for the future electrification of a 25km stretch of the Midland Main Line.
23 February 2018 - Lendlease is chosen by HS2 as master development partner on the £4bn redevelopment of the area around Euston station.
5 February 2018 - HS2 reveals a shortlist of six bidders vying to build the two HS2 stations in London.
2 February 2018 - HS2 names the architects, designers and engineers that will help transform and create four stations along the route.
30 January 2018 - HS2 begins contractor search for £1.9bn M&E works
18 January 2018 - Transport secretary Chris Grayling dismisses claims he made the wrong decision lavishing two HS2 contracts on ailing contractor Carillion just days after it announced an £845m writedown.
15 January 2018 - A spokesperson for HS2 confirms Carillion's JV partners have provided assurances they would cover the shortfall, as the construction giant falls into liquidation. HS2 bosses say they are happy with Kier and Eiffage and will not look to replace Carillion.
24 October 2017 - It is revealed that HS2 finance boss Steve Allen was set to depart the organisation after an investigation by the National Audit Office confirmed unauthorised redundancy payments had been made.
20 September 2017 - HS2 announces Paul Griffiths has taken over as managing director of phase two following the departure of Alison Munro.
29 August 2017 - The search for construction teams to build the new HS2 stations at Euston and Old Oak Common starts.
21 July 2017 - Shortlists announced for three new stations and Euston development role
17 July 2017 - The government reveals winners of the contracts for the design and construction preparation works for the first phase of the UK's HS2.
2 May 2017 - Mace decides against launching a legal challenge against HS2 into its handling of the award of a contract on the railway.
18 April 2017 - Bechtel is named as preferred supplier for the development partner contract on the second phase of HS2 which was originally won by CH2M.
7 April 2017 - HS2 begins the search for architects, designers and developers to deliver four HS2 stations. The client published contract opportunities for four station designs - at Birmingham Curzon Street, Birmingham Interchange and London's Old Oak Common and Euston stations.
17 March 2017 - HS2 again delays the award of its £170m development partner role to CH2M on the second phase of the megaproject, as Mace retains a QC.
24 February 2017 - HS2 delays formal award of a key contract on the scheme to US consultant CH2M as it prepares to sit down with Mace this week to explain why it overlooked the British firm.
23 February 2017 - The High Speed Rail (London – West Midlands) Act 2017 receives royal assent.
16 February 2017 - Building reveals that Mace is considering mounting a High Court challenge to HS2's award of a £170m deal on phase two of the mega-project to US consultant CH2M.
9 February 2017 - HS2 picks consultants for £520m phase two roles. CH2M secures the £170m delivery partner role.
15 December 2016 - HS2 starts search for a developer on Euston station job. The high-speed rail client announced it was looking for a developer to manage over-site development at the site, with the role set to be separate from the main HS2 Euston station job.
15 November 2016 - HS2 Ltd announces the winners for three contracts worth a combined £900m for enabling works on phase one. Joint venture partners Costain and Skanska win the southern contract, a JV comprising Morgan Sindall, Bam and Ferrovial win the central contract, while Laing O'Rourke and Murphy pick up the northern deal.
19 October 2016 - HS2 names CH2M boss Roy Hill as interim CEO
14 September 2016 - The public accounts committee criticises HS2 for not having a "realistic timetable", arguing that getting the first phase from London to Birmingham to open in 2026 is "overly ambitious".
12 September 2016 - HS2 CEO Simon Kirby quits for a new role at Rolls-Royce
25 August 2016 - HS2 delays awarding £900m of enabling works, pushing the date back to the end of October.
23 August 2016 - HS2 shortlists consultants for key roles on branches of the high speed line north of Birmingham.
18 July 2016 - Newly appointed transport secretary Chris Grayling says he has "no plans to back away" from HS2.
28 June 2016 - National Audit Office says HS2 cost has ballooned well over £55.7bn budget while first phase could open 12 months late.
19 May 2016 - London mayor Sadiq Khan casts doubt on the redevelopment of Euston station after questioning whether it is the right place for HS2 to terminate.
16 May 2016 - The Telegraph reveals that HS2 could be taken off the Department for Transport's hands and its extension to Manchester axed amid concern over spiralling costs.
23 March 2016 - HS2 shortlists nine bidders for up to £12bn worth of enabling work.
9 March 2016 - Sources close to the process tell Building that HS2 Ltd has selected the CH2M/Atkins/Sener joint venture as the engineering delivery partner for the first phase of the project.
15 December 2015 - Three firms bag HS2 phase two design deals
10 December 2015 - HS2 shortlists firms for £900m of enabling works packages.
30 November 2015 - Chancellor George Osborne confirms the government will bring forward the extension of the HS2 line between Birmingham and Crewe six years earlier than planned.
2 October 2015 - Bechtel-Jacobs JV, Atkins-CH2M-Sener JV and WSP Parsons Brinckerhoff are shortlisted for the £350m HS2 delivery partner role
24 September 2015 - Chancellor George Osborne launches the bidding process for £11.8bn of major civils works for HS2 phase one. Contractors are invited to pre-qualify for seven civils packages split over three geographical areas - north, central and south - along the phase one route from London to Birmingham.
8 September 2015 - HS2 reveals controversial plans to extend Euston station to accommodate platforms for high-speed services to Birmingham and the North.
7 August 2015 - Two joint ventures - one led by Atkins and CH2M, the other between Bechtel and Jacobs - emerge as the frontrunners in the race to become HS2's £350m engineering delivery partner.
26 June 2015 - A highly critical Department of Transport report on the viability of HS2 is released by the government. The 2012 review of HS2 is released under freedom of information and confirms that officials believed then that the project was unaffordable.
17 June 2015 - The Department for Transport confirms HS2 construction will start in 2017.
25 March 2015 - The House of Lords economic affairs committee calls for HS2 to be put on hold, saying there is "no convincing case for HS2". The report also blames the skills gap for driving up costs.
23 March 2015 - HS2 reveals its design principles, as Sadie Morgan is confirmed as chair of the independent panel that will oversee its design quality.
18 March 2015 - HS2 Ltd issues tenders for up to £1.4bn of work for consultants and contractors. For contractors there is £900m of enabling works and a £250-£300m deal for an engineering delivery partner for the first phase of HS2.
27 November 2014 - HS2 delays Euston Station developer tender. The procurement process was due to start in January 2015.
20 October 2014 - HS2 outlines its engineering contract opportunities
16 May 2014 - Building reveals spending on consultants working on the first phase of the HS2 project is running 86% over budget. Department for Transport HS2 spending to the end of February 2014 reveals that HS2 Ltd has overshot its allocated £101m budget for four lots of professional services contracts by £87m.
8 May 2014 - WSP and Farrells picked for Old Oak Common station project. The pair are asked to draw up three options.
29 April 2014 - HS2 passes through Commons with a vast majority. The scheme cleared its second reading in parliament by 411 votes.
17 March 2014 - HS2 chair Sir David Higgins publishes plans to slash HS2 timescale by three years. The plans are backed by industry and government, with transport secretary Patrick McLoughlin backing Higgins' proposal to ditch plans for a £700m link between HS2 and HS1 and redevelop Euston.
27 February 2014 - Birmingham unveils its huge HS2 redevelopment plan
23 January 2014 - HS2 commits to a design review for all stations along the route.
17 January 2014 - HS2 appoints a new chief executive, confirming Network Rail infrastructure boss Simon Kirby will take the top job.
6 November 2013 - HS2 outlines its procurement strategy
1 November 2013 - MPs approve HS2 funding bill
26 September 2013 - Sir David Higgins is announced as the new chair of HS2. He will take up the role in January 2014.
9 September 2013 - The public accounts committee slams HS2 costs and business case
21 August 2013 - Treasury civil servants privately warn the cost of HS2 will hit £73bn, according to the Financial Times.
26 June 2013 - HS2's budget swells by nearly £10bn to £42.6bn.
16 May 2013 - National Audit Office slams 'flawed' HS2 business case
19 April 2013 - Plans to totally rebuild Euston station are scrapped
15 March 2013 - A judge upholds protesters' complaints against the consultation on the compensation for residents affected by HS2 between London and Birmingham. But nine other grounds on which they challenged the transport secretary's decision to progress the scheme are dismissed.
28 January 2013 - The government unveils the preferred route for HS2 north of Birmingham
2 January 2013 - HS2 appoints engineers and consultants to work on northern section of the line
3 December 2012 - The judicial review process, which brings together five separate legal challenges against HS2, starts in the High Court and is expected to last for a week.
7 August 2012 - A court date is set for HS2 legal challenges. It is announced that all five legal challenges will be heard together in the High Court on 3 December.
28 June 2012 - Building reveals consultants KPMG, PWC and Atkins are set to be appointed to give HS2 commercial advice.
2 May 2012 - The government reveals it is seeking to have five separate legal challenges to its plans for HS2 to be bundled together and heard in the High Court in October 2012.
26 March 2012 - Former Crossrail chair Douglas Oakervee has been appointed as the new chairman of HS2 Ltd for a minimum three-year term.
24 February 2012 - Councils opposed to HS2 announce they are set to launch a legal challenge after a deadline set for a government response to their objections passed without a resolution.
24 January 2012 - CH2M Hill snaps up the lucrative role of development partner on HS2, with the deal thought to be worth between £50 and £70m.
10 January 2012 - Then transport secretary Justine Greening says that HS2 will go ahead in two phases and the legislative process would be achieved through two hybrid bills.
6 January 2012 - A group of leading experts warns the government that it needs to accelerate its plans for HS2 to boost the UK construction industry.
8 November 2011 - The transport select committee says there is a good economic case for a high speed rail network between London and the major cities of the Midlands, North and Scotland.
3 November 2011 - It is revealed that Turner & Townsend, Mace, CH2M Hill and Parsons Brinckerhoff have been shortlisted for the role of development partner on the HS2 project.
18 March 2011 - The transport committee announces it will undertake an inquiry into the strategic case for HS2. The committee says it will focus on the main arguments for and against the project.
28 February 2011 - Then transport secretary Philip Hammond launches a public consultation on the government's proposals for HS2. The five week consultation relates to the first phase of the project linking London to the West Midlands.
Early 2009 - HS2 Ltd set up to assess the case for a second high-speed line