Research reveals smaller firms are affected more by last year's changes to level of fines imposed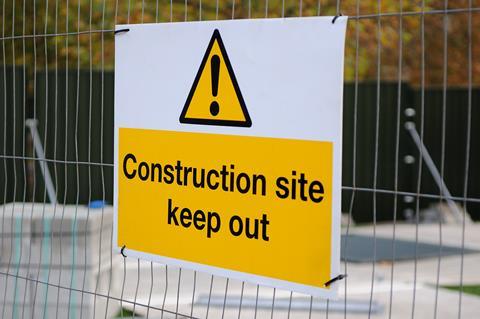 Research has shown that smaller contractors are being disproportionately hit by new sentencing guidelines introduced last year for health and safety offences.
The changes were made last February when sentencing was tied to revenue, with large companies turning over £50m or more generally falling into a range of fines between £6,000 and £3m.
But detailed research published by law firm Clyde & Co – the headlines of which were published earlier this summer – illustrates a growing fear among small and medium-sized enterprises (SMEs) that they are being disproportionately affected by the changes.
The Clyde & Co research found big contractors "are yet to be fined anything like 0.1% of their turnover", while SMEs are typically being hit with 1.5% to 3.75% of revenue.
The construction industry was hit with fines of nearly £13m in the year to 31 January 2017 – against the £7.1m it was forced to shell out the previous 12 months.
Balfour Beatty was handed the highest fine, a £2.6m penalty for a trench collapse on a Lancashire wind farm project, which killed one man seven years ago.
But London firm Monavon Construction received the biggest fine by percentage of turnover – 27.5% – across all industries, after pleading guilty last June to corporate manslaughter when two men died from their injuries as a result of falling through a hoarding and down into a basement in October 2013 while walking past a building site near Euston Station in north London. It was fined £550,000.
Clyde & Co's head of compliance and strategic support, Rhian Greaves, said: "The most significant impact in the construction sector has been on SMEs. The HSE has spent a lot of time trying to get SMEs to commit to health and safety, given the period they've come through [the financial crisis] and margins they make [can lead to cutting corners]."
She continued: "Larger contractors will probably say 'fair enough' on them receiving a higher proportion of fines, given they have health and safety systems in place. This is an education piece for SMEs."
And Greaves added that the Court of Appeal has "generally been unsympathetic" to those protesting the size of their fines.
The new fining regime led Balfour Beatty chief executive Leo Quinn last year to warn that the size of the penalties could bankrupt smaller firms.
In its 2016 interim results the £8.7bn turnover firm announced a £25m writedown prompted by a "reassessment of potential liabilities on historical health and safety breaches" following the introduction of the stricter sentencing guidelines.