When is the Spurs stadium due to open? Building reveals what we know about the Tottenham stadium delay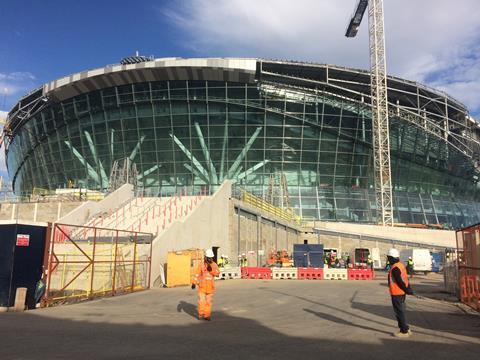 Months after Spurs' stadium was due to open there is still no clear picture of when the new facility is likely to be finished.
With the club pushing contractor Mace to complete the job, there are plenty of questions around how and why Tottenham's new stadium is not finished yet.
Take a look at what we know so far.
When was the stadium due to open?
The stadium was originally due to open for Spurs' first home game of the year against Liverpool on 15 September. But on 13 August, the club announced that the facility would not be ready for the match.
Who's to blame for the delay?
On 22 August Mace blamed the delay on faulty wiring, with chief executive Mark Reynolds telling Building the firm had discovered problems with the wiring for fire detection systems during commissioning and testing work. In an update to fans on 9 October, Spurs chairman Daniel Levy said the delay was due to "several contractors".
Building understands that around 12,000 fire alarms had to be checked.
How much is it all going to cost?
The stadium was originally expected to cost around £400m. On 9 October, Levy admitted the costs of the 62,000-seat stadium "had definitely risen". There is now speculation that the price tag of the north London ground is now north of £800m and closer to £875m.
When is the stadium now due to open?
That's the million-dollar question. Daniel Levy himself has admitted he doesn't know. "I wish I was able to confirm an exact opening date and fixture," he told fans at the end October.
For a long time the best guess was that the club was aiming to be ready for Manchester United on 13 January, but the club confirmed on 13 December that the Man Utd fixture had been switched to Wembley.
The club has since been forced to concede that its Champions League game against Borussia Dortmund in February will be played at Wembley Stadium as its new stadium won't be ready until March at the earliest.
For the moment, the first game which could be played at the new stadium is against Crystal Palace on 17 March – six months after the first game at the new ground was due to be played.
What is known is that by the time that match comes around at least 14 of its 19 home league games will have been played at Wembley.